How to Add and Edit Location Records
Species range maps based on spot records is one of the best strengths of the Butterflies of India website. 
Spot records (images) submitted to the website get automatically databased and mapped to a specific location if location records are used properly. This can help not only in mapping butterfly distributions, but also to prepare local checklists, analyze seasonal occurrence, and learn about butterflies of a specific locality. We have a Location Database that makes this mapping effort possible. If you are submitting a spot record 
under the Submit Observations module, please choose a location record from the dropdown options when you start entering location name in the 'Location search' box. For example, when you start typing 'Rani', these 
dropdown options will appear: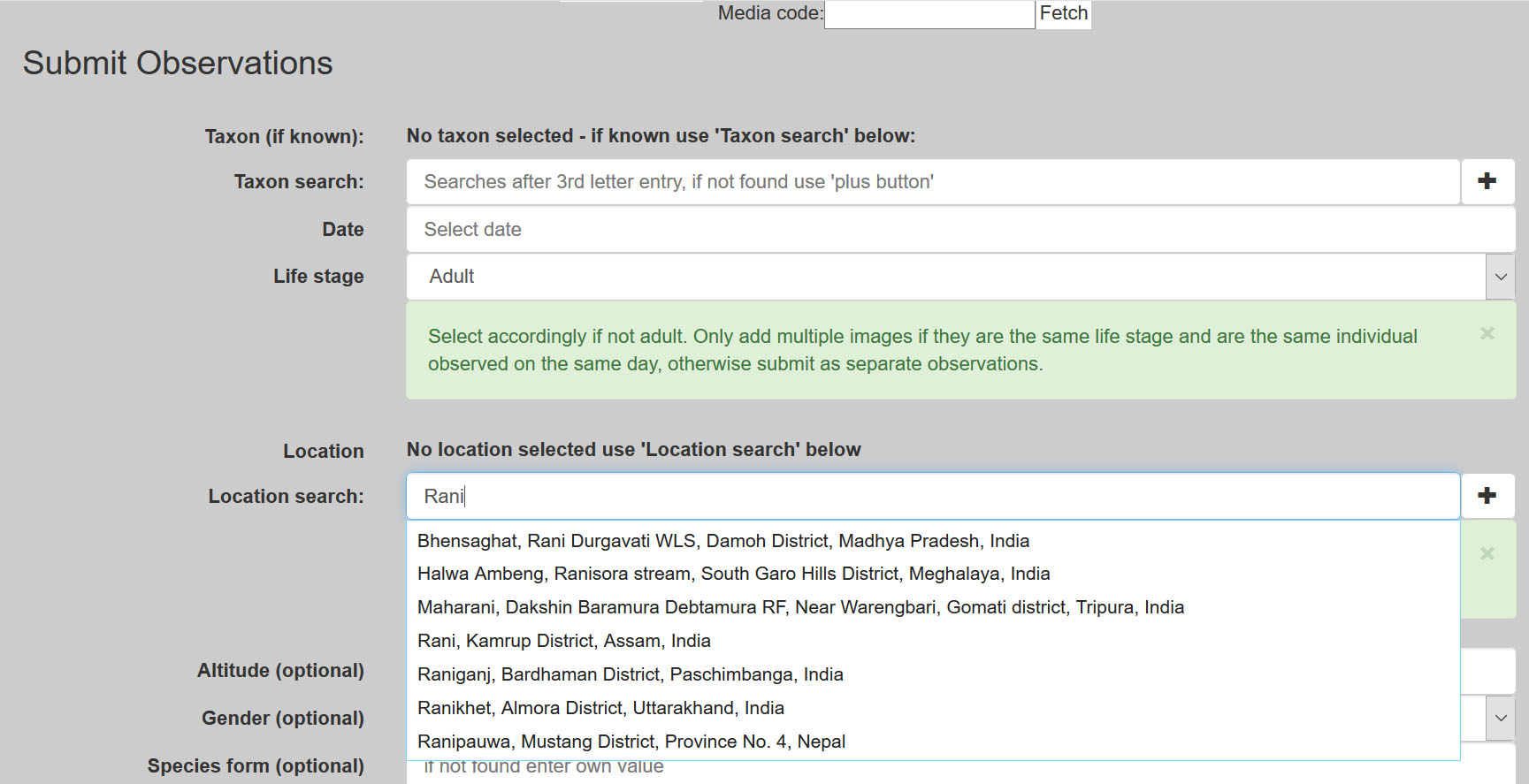 If you are submitting spot records from Rani, Assam, then choose that option and proceed to filling in the remaining information in the Submit Observations form. That's easy!

If the location you are looking for is not listed, then there is no record of this 
location in the Location Database. In which case, click on the '+' button to the right of the 'Location Search' box. When you do that, a new pop-up window will open where you can add 
relevant details and 
save the new location to the Location Database using Google Maps
:

Note that 'D' in district names have to be capitalized, e.g., Kamrup District, Bengaluru Urban District, and North Sikkim District. Use only official names for specific locations, districts and 
states. Also, pay particular attention 
to: (a) correct spellings of place names: it is often useful to copy and paste location names from a 
relevant and reliable source so that you do not commit spelling or any other errors that will get propagated by others, and (b) syntax: a comma, dash, 
or full stop, has to appear right next to the previous word character, not after a space from the previous character. Do not use all caps or all small letters, i.e., standard rules for writing names should apply, e.g., 'Rani' and 'Kamrup District', not 'rani' and '
kamrup district', or 'RANI' and KAMRUP DISTRICT. This applies to your own names, too, if you are registering on the website.

Specific locations have to include name of the city or wildlife sanctuary and other prominent markers associated with that specific location, e.g., 'New Sama, Vadodara', 'Pashan Lake, Pashan, Pune', and 'Deban, Namdapha NP'. We use two abbreviations that are commonly used in India: (a) WLS for Wildlife Sanctuary, and (b) NP for National Park, but abbreviations are usually avoided on this website. If the specific location does not have a name (e.g., a specific stream in a forest), you can give it a name but please ask the local people around so that you are not unnecessarily inventing new names for locations that no one else understands. Wherever possible, try to take GPS readings for precise locations, or try to find your spot on Google Maps.

If your photo-observations are submitted or even published without a proper location record, then you can go back to each spot record and change the location name to map it to a location record in the Location Database. To do this, first log in to your user account. After sign-in, at the very top of the Submit Observations page, you will find a link to Edit Observations. On this link, you will be able to edit location records for your submitted and published images. To do this, clear out cache from your internet browser so that the browser will not take location entries from the cache. This will ensure that the dropdown options you get are shown directly from the Location Database and not from your internet/website history.

I

MPORTANT NOTE:

Due to a technical error for some users even if they select a location, and it is correctly displayed on the image the website does not register this locaiton in its database. We are trying to fix this problem soon, but until then we request users to delete browser history, cookies and cache. This usually fixes this problem.

Read further guidelines on locations and image submissions in general on the 
Contributing Photos To Odonata Of India page.


Thanks for helping your butterfly-watching community map distributional ranges of Indian butterflies. This is an important aspect of butterfly biology that will help not only in creating detailed, accurate and current range maps that are useful to all naturalists, but also in long-term studies on taxonomy, impacts of climate change, and other aspects of the biology of Indian butterflies.
If you have any troubles dealing with locations, drop an email to 
Shantanu Joshi
so that we can assist you in sorting this out. Also, let us know by email if you have thoughts on making this page more useful, or creating other 'How To' help pages for this website.
---
Cite this page along with its URL as:
Anonymous. 2023. How To Add And Edit Location Records. In Joshi, S., P. Dawn, P. Roy, and K. Kunte (eds.). Odonata of India, v. 1.57. Indian Foundation for Butterflies.
.